LIVE MUSIC AT THE WESTERN SC BLUEWAY FESTIVAL
We are thrilled to have a fantastic lineup of regional artists at the festival! Come by land or sea to experience the music talents of this collection of artists.  Here is our current list of confirmed bands:
Surrender Cobra is a band from Greenwood, SC formed in 2020.  The band is made up of 3 brothers and their dad.   Jarratt Smith (guitar, ukulele, drums, lead vocals), Witt Smith (bass, vocals), Benjo Smith (drums, vocals), and Brandon Smith (electric banjo, keyboard, vocals).   They play everything from Allman Brothers, Lenny Kravitz and the Beatles to Bob Marley, Tyler Childers and more.  They love to perform live!  Click this link to hear them.

She N She, Augusta, GA | 2:30 – 4:30
East coast folk meets west coast indie to reign in an eclectic mix of originality and poetry. Brandy Douglas and Drea Suarez met at an open mic in 2010 and have been performing together ever since. The raspy growl coming from Brandy alongside the sweet warmth hailing from Drea create a unique melting pot of lyric, harmony and style known as She N She. Click this link to hear their great sound.
Crawford Colt – Greenwood, SC | 5:00 – 8:00
Somewhere between the mountain sounds of Appalachia and the spirit of traditional country music, you'll find Brandi Colt and Andrew Crawford. The duo began as two songwriters getting together playing song swaps and writers rounds, but with the realization of how well their individual sounds fit together and with so many requests for duo performances, the next natural step was to form an act, now tagged, "Crawford Colt". Crawford Colt has already shared the stage, opening shows for established artists like Sunny Sweeney, Josh Morningstar, Clint Park, 49 Winchester, and Creed  Fisher with upcoming performances this year supporting artists like Little Texas, Alex Williams, Billy Don Burns, Kayla Ray, and more!
They are currently writing and recording their first album together, but you can listen to their solo projects on all major streaming platforms.
Click this link to hear their great sound.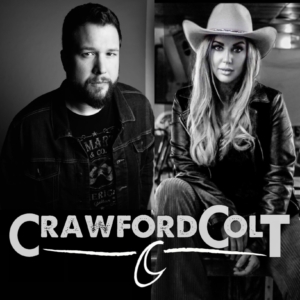 Check the website often for changes and updates!